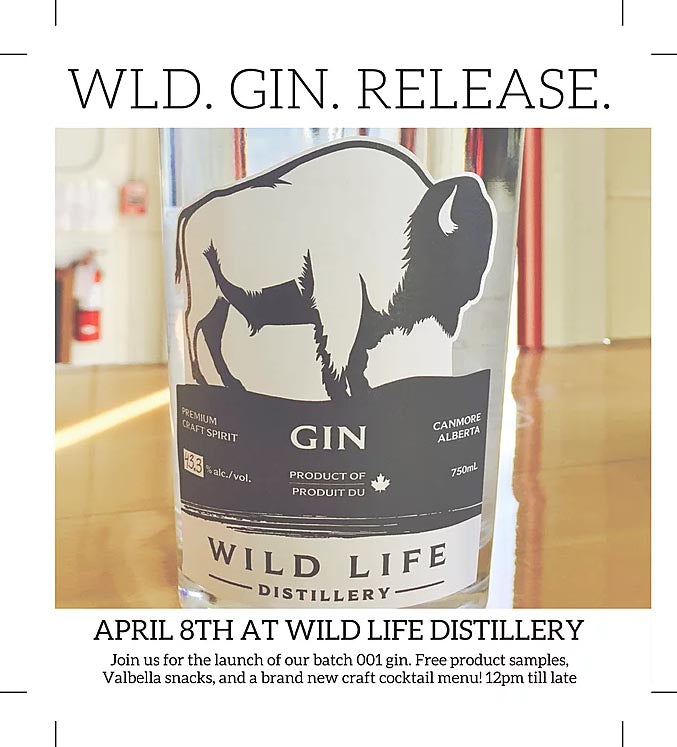 Greetings from the distillery y'all. We trust that everyone has been enjoying the warm spring weather in the mountains, and finding alternate ways to have fun amidst the very touchy avalanche conditions we've been seeing. Class 4 off of Cascade Mt., yikes.

We have been busy at WLD and have a few things to share here.

First of all thank you to everyone who came out for our Grand Opening on February 18th. We most notably had Cam Westhead, our local MLA in attendance, as well as Stavros Karlos from our friends at the Park Distillery in Banff showing up with an oak barrel for us to fill with something delicious! Over 150 people poured in and out throughout the day and it was our pleasure to share the distillery space with so many of our best supporters. So thank you!
---
Recent news in the craft distilling world is that the
NDP Alberta Government has announced a review
of the current spirits mark-up structure within the province in this years budget. The details haven't been released, however the mention of it in the budget announcement is very promising for our fledgling industry. We are on the edge of our seats awaiting the details, but the numbers could help reduce the $14+/bottle we currently pay in tax.
---
So with those 'house-keeping' points out of the way, it's time for the meat of the matter. Just to be clear, this is not a joke (April 1st tomorrow): WE HAVE GIN, and we are ready to share it with you all!
With the return of the bison to Banff National Park, we thought that now is the perfect time release our botanical gin! Wild Life Distillery Gin is everything you were hoping for. Citrus, juniper, spice, texture, and depth, all in one sip. We are extremely pleased to be able to share it with the Bow Valley first and we have 2 party announcements to make; keeping both ends of the valley happy, while of course ensuring a healthy segregation of our local inhabitants ;)

Saturday, April 8th is the launch date for this product at the distillery in CANMORE. Guests will be offered free product samples and Valbella snacks as we roll out a brand new cocktail menu showcasing this amazing product. Doors open at noon and we don't expect to close until late.
Sunday, April 9th is the launch date in BANFF. Our friends at the Banff Park Lodge are throwing a party in WLD's honour. There will be free product samples as well, delicious snacks, and their expert bartenders pouring martinis, tonics, and other crafty cocktails to help us celebrate. Come at 7pm, drinks till 10pm so don't be late!
Consider yourselves informed. We hope to see all of you at one or both of these events. Please feel free to invite friends and help build our WLD community. Newcomers are always welcome. 
At last we can share a G&T and celebrate!
Cheers everyone, 
The Wild Life Team
Work Life Balance - WLB meets WLD
Starting a small business has its challenges. #understatement. As a new company Wild Life Distillery is proud to have done so much, so quickly. Keith and Matt have been working long hours for the p...
Read more